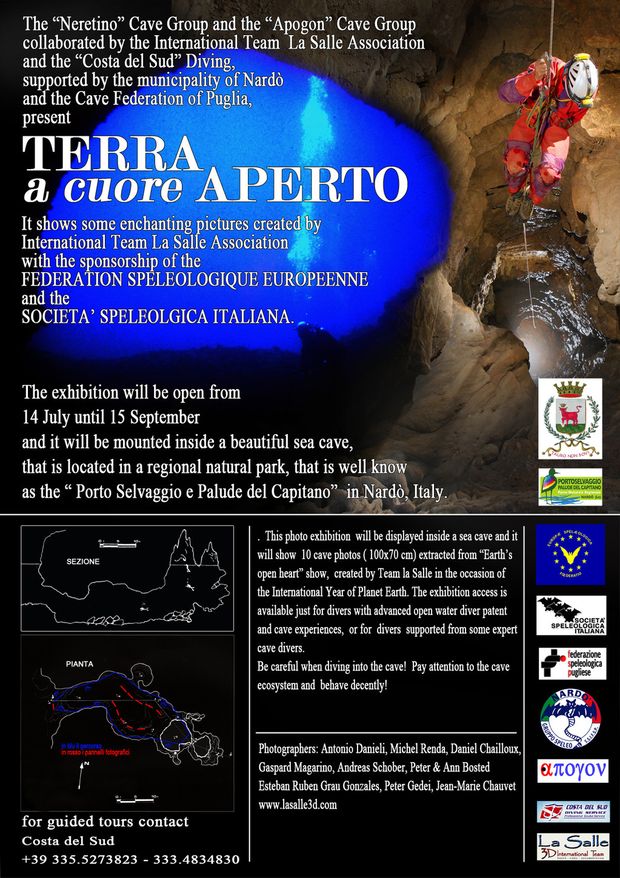 The "Neretino" Cave Group and the "Apogon" Cave Group
collaborated by the International Team  La Salle Association
and the "Costa del Sud" Diving,
supported by the municipality of Nardò and the Cave Federation of Puglia,
present  
"Terra a Cuore Aperto" photography exhibition.
It shows some enchanting pictures created by International Team la Salle Association with the sponsorship of the
FEDERATION SPELEOLOGIQUE EUROPEENNE and the
SOCIETA' SPELEOLGICA ITALIANA.
The exhibition will be open from 14 July until 15 September and it will be mounted inside a beautiful sea cave, that is located in a regional natural park, that is well know as the " Porto Selvaggio e Palude del Capitano"  in Nardò, Italy.
 This photo exhibition  will be displayed inside a sea cave and it will show  10 cave photos ( 100x70 cm) extracted from "Earth's open heart" show,  created by Team la Salle in the occasion of the International Year of Planet Earth.
The exhibition access is available just for divers with advanced open water diver patent and cave experiences,  or for  divers  supported from some expert cave divers. Be careful when diving into the cave!  
Pay attention to the cave ecosystem and  behave decently! 
Photographers: Antonio Danieli, Michel Renda, Daniel Chailloux,
Gaspard Magarino, Andreas Schober, Peter & Ann Bosted
Esteban Ruben Grau Gonzales, Peter Gedei, Jean-Marie Chauvet 
Photography exhibition curated by Antonio Danieli.